Let me begin with a disclaimer: I do not have a professional marketing degree like you. I had the same concerns when I applied for a marketing position, wondering why anybody would employ me. But the funny part is that when you know you don't have the necessary abilities for the job, you work even harder. Nearly a decade into digital marketing, I am often asked the same question: "How can I learn digital marketing?"
As I began researching this subject on Google, I saw four advertisements positioned just above the first organic search result, which was once again a listicle. Then there was a Quora post with over 800 replies, which clearly demonstrated that there is no one-size-fits-all answer to this question. To be honest, some of these articles have an ulterior purpose of marketing courses, workshops, and programs related to digital marketing.
So that brings us to the question, how do you zig and when the world zags, or how can you be that lone sheep which chooses to learn differently.
Before I describe how to learn digital marketing, let's begin with the fundamentals.
What is Digital Marketing?
Digital marketing is the act of selling products and services using digital channels. These digital channels include search optimization, search marketing, email, social media, mobile, etc.
One of the mistakes people make is they get caught between all these terms when they get started. Should you, for example, study performance marketing before you learn search engine optimization? My answer is often to start with the fundamentals before you become a subject matter expert.
Marketing in essence is supposed to help you achieve the below outcomes:
Build awareness for your brand (Brand Building).
Drive demand for your products & services (Sales & Lead generation).
Almost all of the digital marketing channels you use must help you achieve one of the aforementioned objectives. If one is to visualize learning digital marketing, it will resemble a tree with roots, trunk, branches, and twigs. Where the roots are really the foundation or a grasp of the fundamentals. This is the foundation upon which the trunk and branches stand.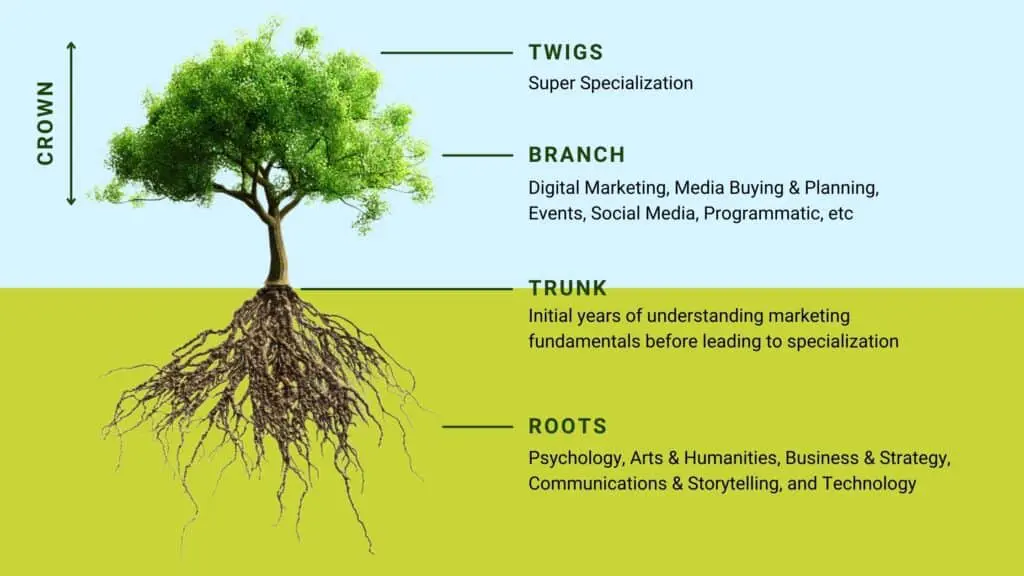 I know this sounds a bit philosophical or clichéd, but it will make sense to you as you start understanding a marketing career from first principles thinking. I've written about this before on the blog, and I'd suggest it as extra reading if you're starting to learn digital marketing.
7 Ways to Learn Digital Marketing
All of us learn differently. While some of us prefer formal courses, others prefer learning by doing. Enrolling in a formal course brings a certain amount of seriousness, given that most courses are time-bound and need you to take exams at the end to finish the course. However, a formal course, particularly in digital marketing, is ineffective for the following reasons.
The field of digital marketing is in a constant state of flux. The tools and techniques you learn today might not work tomorrow.
Most formal courses provide assignment and educate via simulations. As you begin to work, you will discover that such simulations do not accurately represent the complexities of a real-world working environment.
Don't get me wrong: I'm not opposed to formal courses, but I think they won't necessarily help you become a successful digital marketer. So having said that, how should you learn digital marketing?
1. Follow Marketing Experts
Where should you begin if you want to learn about search engine optimization? Begin by following the finest people in the SEO community – Aleyda Solis, Tim Soulo, and Brian Dean. They are people with extensive experience in the field and constantly share their knowledge with the community by writing about it. Some of these experts also have an active blog where they keep writing about their experiences.
It is rare that you will come across someone who is an expert in every area of digital marketing. Anyone who claims to be an expert in all aspects of digital marketing is most certainly deceiving you.
Create a comparable list of influencers for each area of digital marketing and start by following them on social media or subscribing to their blog articles. You may have noticed that these influencers are not always individuals but rather businesses (or groups of people) doing their part to educate the community. To get you started, here's a sample list:
| | | | | | |
| --- | --- | --- | --- | --- | --- |
| Content Marketing | SEO | Performance Marketing | Email Marketing | MarTech | |
| Ann Handley | Aleyda Solis | Niel Patel | Mail Chimp | Scott Brinker | |
| Melanie Deziel | Tim Soulo | WordStream | HubSpot | Kim Davis (MarTech Today) | |
| Animalz | Brian Dean | Will Reynolds | Campaign Monitor | John Miller | |
| Joe Pulizzi | Siege Media | PPC Hero | SendGrid | David Lewis | |
| Andy Crestodina | Moz | Search Engine Journal | Aweber | David Cancel | |
Marketing Influencers
2. Read Books and Blogs from Practitioners
Ann Handley's Everybody Writes was one of the finest books I bought when I first wanted to start writing. Ann's years of expertise managing and growing Marketing Profs as a platform have been distilled into a few pages. The actionable advice in the book has made it the de facto guide for content marketing practitioners just starting on their writing adventure.
Books also provide you a fresh perspective; the more you read, the more it helps to develop your own worldview. When you go to your first marketing interview, the interviewer is aware that you are not an expert. However, they are more interested in understanding if you have a unique viewpoint or solution to the problem. Books are a great way not just to learn but also to develop your perspective on any topic. To get you started, here's a sample list of books you should read:
| | | | | |
| --- | --- | --- | --- | --- |
| SEO | Content Marketing | Performance Marketing | Branding | |
| The Art of SEO | Everybody Writes | Predictable Revenue | Start With Why | |
| SEO Secrets | The Storytelling Animal | Measure What Matters | Brand Leadership | |
| SEO for Dummies | Content Inc | Web Analytics 2.0 | Ogilvy on Advertising | |
Digital Marketing Books
A word of caution before you begin reading any of the books listed above. For each book, you read by a foreign author, search for an Indian author who addresses the same subject. Considering most works by foreign authors may not do a great job of addressing some of the issues that arise in the Indian setting. I could perhaps create an article on all the marketing books you should read (do leave a comment if you want me to attempt a blog post on the topic).
3. Build your own website
You can't learn about social media unless you have a presence on social media platforms. Simply by being a passive observer on social media and seeing what some companies do, you may learn a great deal. Likewise, if your objective is to gain knowledge about web development, content marketing, and search engine optimization. Begin by creating your own website.
Here's a list of skills you'll develop simply by setting up and maintaining your website.
Website Development: Understanding how to buy a domain and host it and how to set up and maintain a website using WordPress or another content management system.
Content Writing: You'll learn how to create blog articles and website content that will retain visitors on your site.
Search Engine Optimization: As you develop and publish content on the website regularly, you will gradually understand both on-page and off-page SEO.
Marketing Tools: Every website uses various tools, from Google Analytics and Search Console to marketing automation platforms like HubSpot.
Social Media: You will learn how to post your content and create content for social media if you use social media to market your website.
The simple act of creating your digital presence will help you to learn digital marketing in ways in which you've never imagined. The majority of what I know now came as a result of the blog that I developed a decade ago.
4. Watch Videos & Listen to Podcast
While books should always be the primary source of knowledge, we are all pressed for time. Videos and podcasts include a wealth of knowledge that may be used to not only learn about digital marketing but also to get a new perspective on any subject.
But as with books, you should always cross-check your source information and make sure that what you are learning from authentic practitioners. Additionally, social media tends to polarise your views by repeatedly presenting you with the same material. Ascertain that you are getting information from a variety of channels/podcasts in order to increase the diversity of your learning process.
5. Side Projects and Freelancing
To begin, let me state that you should not contemplate freelancing or taking on a side project until you are certain that you have established a solid foundation in digital marketing. Taking on side projects or freelancing is an excellent method to improve your digital marketing skills. Additionally, if you think you can assist a company with digital marketing activities, you can also choose a pro bono consultation.
Side projects will help you grasp the finer nuances of how digital marketing varies by industry. That is something you do not get to experience when creating your own website.
6. Opt for Free Courses
There are many free digital marketing courses that you may enroll in while still learning digital marketing ropes. Several of these courses provide certifications that you can connect straight to your LinkedIn profile or include in your resume. Here is a sample list of courses you can peruse based on your learning curve.
Most of the free courses that I've listed above are periodically updated to ensure that learners receive high-quality content. I'm certain that if you take the above courses and use what you've learned via your website or a side project, you won't need a formal degree to get a job.
7. Start Writing
If you are starting out in digital marketing, this may sound like counter-intuitive advice. However, I think that this has aided me in learning digital marketing quicker than some of my peers. When I first began studying digital marketing, I would attempt to learn about a new subject every week, then experiment with new tactics learnt on my website, and then write about my learnings and discoveries.
Over time, the website evolved into a library of content that I could return to. Additionally, sharing my findings and learnings aided me in gathering input from peers and industry professionals.
Consider this: Seth Godin, whom many regard as a top marketing guru, rises each morning even at the age of 61 and shares his weekly ideas and lessons on his blog.
8. Find a mentor
Marketing is a people-oriented profession. I was fortunate to meet individuals early in life who believed in my abilities and opened doors for me that I would not have found otherwise. Oftentimes, all we need is a little nudge in life to discover inspiration, purpose, and the confidence to succeed.
Find a mentor that inspires you and helps you find the right direction. We often search for mentors at work, but chances are you won't find them there due to the way companies are structured. It does not have to be a person you know, but rather someone whose work you admire. I became more serious about blogging after meeting Jeff Bullas at a workshop in 2015. I doubt I'll ever see him again, but that little nudge inspired me to become a better blogger and marketer.
Unlearning Digital Marketing
Perhaps, while on the subject of learning digital marketing, I should also mention few things you should absolutely avoid. The majority of events and webinars on the subject are often a waste of time. They just serve as an excuse for organizers to gather and distribute your data to sponsors. Of course, there are exceptions to this rule, but this is a viewpoint held by a sizable portion of the marketing community.
Joining a few marketing Facebook groups and communities may help to some degree, but the bulk of these communities have an ulterior purpose. They simply serve as a broadcasting mechanism, and there is seldom any useful advice or information provided.
Today, digital marketing courses are marketed as commodities, with prices ranging from ₹999 for a sachet workshop to ₹15,000 for a three-month course. Perhaps a time-bound offer has been made to you to ensure that you purchase the course at a discounted price. Before you buy these courses, pause for a second and ask yourself what you're trying to accomplish.
A formal degree will not make you a better marketer, and a university certificate will not earn you a job. What will help you get a job is your knowledge base, your viewpoint on the topic, and your willingness to learn and unlearn.