It was Alan Kay who said, "We cannot predict the future, but we can invent it—and we better start now." Account-based marketing has existed for a while now. Even before ITSMA came up with the concept of account-based marketing, marketers were doing it in their own ways. As B2B marketers, we are frequently questioned about the future of account based marketing platforms.
Account-based marketing has been around for over two decades. As marketers, we don't have a vantage point from which we can see where account-based marketing is headed, but we can definitely listen to those who do. John Miller, Sangram Vajre, and David Cancel are among the list of people you should listen to if you want to know where the market is heading.
John Miller is the Chief Product and Marketing Officer of Demandbase. He was also the erstwhile founder of Engagio (before Demandbase acquired it), and he was also the co-founder of Marketo. Demandbase released its new platform, Demandbase One, last November post-integration with Engagio. A recent discussion that John Miller had with Demand Gen Report became the basis for this article.
What has changed since the inception of account based marketing?
As Marketo's CMO, John had an insight that, while marketing automation was lead-based, his team was selling to accounts. He realized that marketing needed to be more account-centric. That ultimately led him to leave and start Engagio. However, ABM has evolved significantly since he left Marketo to launch Engagio.
1. Buying Process is no longer linear
Account-based marketing was founded on the premise that the sales and marketing processes are linear. Marketing converts the lead and forwards it to the SDR, who qualifies it. The sales representative takes leads from the SDR, closes them, and then passes them on to customer success.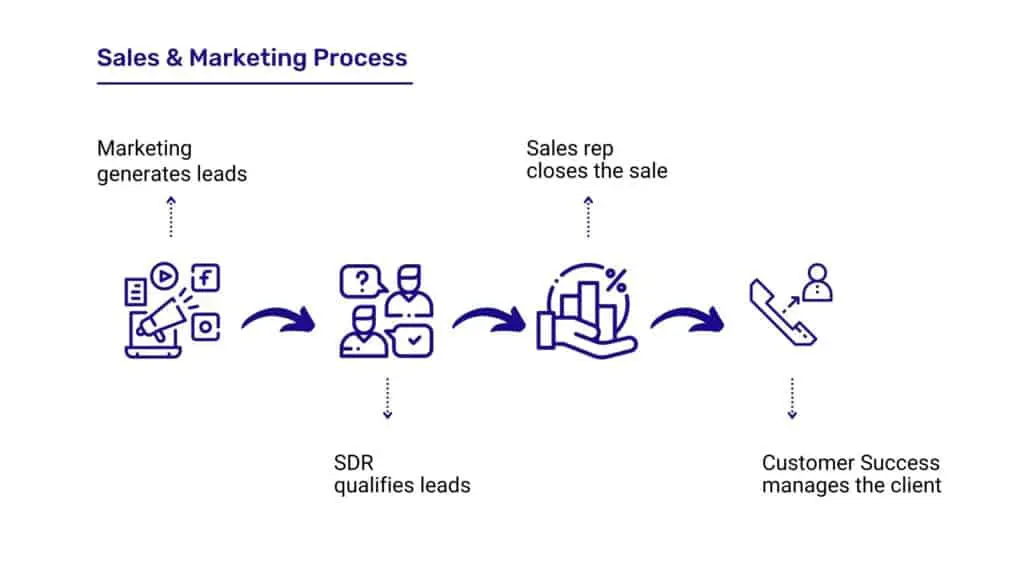 Buying is no longer a linear process, and we now require a more orchestrated way for marketing and sales to collaborate. Elements of this are already seen in sales engagement platforms such as Outreach and Saleloft, where the sales team is actually sending many emails at the top of the funnel. The marketing has to also adjust how they are working in the middle and bottom of the funnel.
2. Rise of Intent Data
Another factor that is making traditional marketing automation less effective is that buyers are getting more knowledgeable. Buyers have gotten pretty savvy about forms and about being tracked. They understand that if they visit the site and fill out a form, they will receive calls and maybe be even get cookied.
Buyers are conducting a lot more of their research anonymously outside of your website. So, while marketing automation was great for lead scoring and showing you what people were doing on your site. Marketers have recognized the need for new technology that informs them of what users are doing off their websites.
This led to the rise of intent data as it lets marketers forecast and replace lead scoring in certain ways. It tells the sales team where they should be focusing their time and attention. Today several ABM platform vendors have their own proprietary intent capabilities. Intent data providers capture this data from their own network (or individual sites), while others capture data from a broader set of sources.
As per estimates from Gartner, by 2022, more than 70% of the B2B marketers will utilize third-party intent data to target prospects or engage groups of buyers in select accounts.
3. The New Normal
Many marketers believe that the pandemic has opened Pandora's box, which you can't put back in. There has been a massive move to digital in the last year, and more marketers are realizing that they can generate more value from the digital investment.
Magna reckoned that in 2020 global advertising shrank by 4.2%, but spending on digital formats rose 8% to reach an overall share of 59%. With most governments expected to pump more money into the market, the GDP will rise back to usual levels from the current projected 4-5%.
What is the Future of Account Based Marketing Platforms?
The very nature of account-based marketing was to identify the target accounts and reach out to them regardless of whether or not they showed interest. But now, ABM vendors like Demandbase are talking about Account-Based Experience (ABX), which is revisiting ABM concepts through the lens of customer experience. The recent changes provide us a direction on where the account based platforms are headed.
Data & Sales Intelligence
To establish a relationship, you need customer data and sales intelligence to inform your decisions. Demandbase recently acquired InsideView and DemandMatrix. This provides Demandbase with firmographic, contact, and technographic data, which augments its existing intent data and account identification capabilities.
Today companies have to purchase this data from different vendors. For instance, you have ZoomInfo and Dun & Bradstreet on one side, and you have ABM vendors like 6sense, Terminus, and Demandbase on the other. The integration of the data also allows ABM vendors to offer targeted advertising solutions moving beyond advertising solutions. Data will continue to play an integral role in the future of account based marketing platforms.
2. Standalone Data Providers
B2B data platforms like ZoomInfo have moved from pure-play data providers to offer products that extend their data capabilities. The companies recent acquisitions like Komiko and Insent make it clear that the company is serious about this transition. ZoomInfo has also launched its sales engagement platform Engage to compete with other players in the market like Salesloft and reply.io.
Dun & Bradstreet, the B2B data provider, has also launched several products over the last few years to extend its data capabilities, including the most recent Lattice Engine acquisition in 2019.
Standalone data providers will however continue to exist since several ABM vendors continue to rely on companies like Bombora and Tech Target for their intent data.
3. AI powers ABM Platforms
6sense raised $125 Million at a $2.1 billion valuation for ID graph, a predictive AI-based sales, and marketing platform, earlier this year. The company is building a sales equivalent similar to ones like the social graph of Facebook. Over the last few years, AI has been increasingly integrated with ABM platforms.
It might not surprise many, but we will see AI integrated more deeply with account-based marketing platforms. The initial experiments focused on using AI to scale personalization, but the use cases have since evolved to include data automation and other data-related aspects.
Sangram Vajre, the co-founder of Terminus, also mentioned that in the future, ABM might use artificial intelligence to recognize buyer intent and fit data and then design landing pages and ABM campaigns for those prospects automatically. AI will certainly play an important role in the future of account based marketing platforms.
4. Conversations and not leads
When Drift Co-Founder David Cancel and his team decided to ditch forms in 2016, they were fundamentally rethinking how account-based marketing should be approached. Drift's then-CMO, Dave Gerhardt, wanted to shift the company's focus from leads to relationships.
Drift's platform today helps several brands to personalize each conversation with its chatbot technology. The platform helps marketers to deliver a more seamless and real-time experience. Today practically every marketing automation platform has chatbot capabilities. If ZoomInfo's acquisition of Insent is anything go by, conversational marketing is only going to be bigger in the coming years.
5. MQL is dead
Marketers are increasingly moving away from MQL to conversation-ready leads. Today's sales teams are trying to figure out how to tell the difference between leads who are ready to talk and those who aren't. New models like demand generation waterfall by SirisusDecision will replace the existing models.
I've written about this previously on the site how marketers have to keep increasing their MQL target as the sales velocity slows down after the first six months or year into doing demand generation.
Implications for ABM Marketers
As an account-based marketer, how will all these changes affect your work? Your end goal has to be creating a frictionless experience that helps both the sales team and the end customers. Change your approach from seeing prospects as leads to individuals searching for answers.
If you make these adjustments, you can be confident that your marketing efforts are making a genuine impact, regardless of what the future of account based platforms holds.